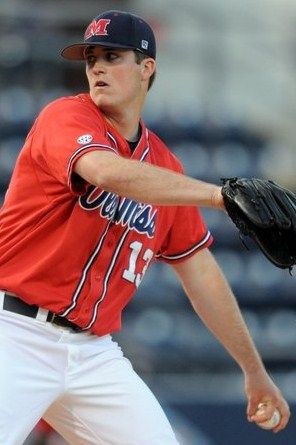 I can't be certain, but it looks like Drew Pomeranz might be a member of the tribe. Pomeranz was drafted by the Indians in 2010 as the 5th overall pick. He's a 22-year old southpaw who dominated at Ole Miss.
Baseball America
has him ranked as the 61st best prospect in the Minors and the 4th best prospect in the Indians' farm system, and that was without even throwing a pitch yet!
Someone on a Yahoo group I belong to wrote this post about Pomeranz:
HI Gang. My guess is the next impact MOT to hit The Show is Jason Kipnis. Cleveland drafted him in the 2ND round out of ASU as a corner outfielder. He hits for average (.300 at each pro stop) but he probably has average power for a corner OFer, and Cleveland moved him to 2B. Due to his work ethic, Cleveland Mgmt loves him and gives him a high ceiling offensively and defensively. Last June, Cleveland tabbed another MOT and made him their 2010 1ST Round pick (5th overall pick), a 6' 5" 190 lb. LHP from Ole Miss.

A few years ago I had an email back-and-forth with minor league pitcher Mike Pomeranz. He was a Class A pitcher (2 cards-88 Elizabethton & 89 Kenosha) in the Twins' system who became a newscaster/anchor at a Minneapolis TV station. In the emails he confirmed he is Jewish. This is the baseball family. Mike's brother Pat played minor league ball as well (White Sox). Mike has two sons who are pitchers-high school all-american Stuart (Stl 2nd round pick in 2003) and college 1ST team all-american Drew. Cleveland just drafted 21-year-old Drew in 2010, gave him a $2.65 million signing bonus and assigned him to High A Kinston in the Carolina League. In his first 2 pro starts facing 21-24 year olds, he pitched 11 innings, gave up 3 hits, 0 earned runs, 2 walks & 17 Ks. Devastating pro start. The report on him is he has a 92-93 MPH fast ball, curveball (best pitch) and breaking ball.

The way Cleveland has dumped salary, grabbed nearly 20 prospects in exchange for Cy Young winners C.C. Sabathia and Cliff Lee, Victor Martinez and Casey Blake too, they could make a run for the roses a couple years out with two impact MOT draftees on the roster-Kipnis & Pomeranz. Keep them on your radar.

2011 baseball draft lies just ahead. Will be on the lookout for newbies.

Dog out.
If Pomeranz really is Jewish, the Indians' farm system is stacked with up and coming MOTs. In addition to Pomeranz, they've got Jason Kipnis (who was mentioned above and is ranked by Baseball America as the 54th best prospect in the Minors), Jason Knapp (injuries have slowed him down, but he was ranked as the 64th best prospect coming into 2010), Eric Berger, and Alex Kaminsky. Pomeranz is also supposed to have the best curveball in the Indians' farm system while Knapp possesses the best fastball.