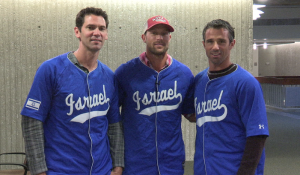 Shawn Green, Gabe Kapler, and Brad Ausmus recently met in Los Angeles with Israeli baseball officials; they are determined to help Israel assemble a competitive team for next year's qualifying round in the World Baseball Classic.
Green said he would help the team "in any capacity" and did not rule out playing. If you'll recall, Bernie Williams played in the 2009 WBC with Puerto Rico's team after he had retired from MLB in 2006. He was 40 at the time. Shawn Green last played in 2007 with the Mets and will turn 40 next November.
Ausmus said he would try to reach out to Jewish major leaguers and believes the team "could be a contender" in 2013 if it can get past the qualifying round. Ausmus hopes to bridge the gap between Jewish American baseball fans and Israeli baseball fans.
Kapler believes many Jewish ballplayers will want to participate in this historic event. Peter Kurz, the secretary-general of the Israel Association of Baseball, said the qualifying team will recruit recently retired major leaguers as well as current players in the minors and even players at the collegiate level. Obviously, recruiting current major leaguers will be a top priority, but that may not happen unless the team can advance beyond the qualifying round.
Kurz also said Green, Kapler, and Ausmus are each going to contribute in coaching, recruiting, and fund raising. One of the three is expected to become the team manager. Ausmus seems like the logical choice. He is one of the more cerebral baseball minds around, and it has long been thought that he would make an excellent skipper.